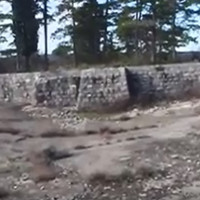 Hrasno / Cistern
Cistern / tank is located above the station Hrasno, in once landscaped park in Carska ograda (Imperial fence). It is a unique building on the railways in Bosnia and Herzegovina and beyond. The tank is supplied by rainwater which was collected to canals and three opened collector tanks, and beneath them closed reinforced concrete tank was built, with capacity of 7000 cubic meters of water. It was the largest structure of reinforced concrete applied in hydraulics in this part of Europe.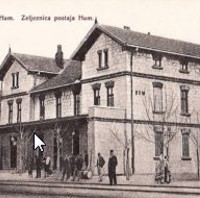 Source: www.ciro.herzegovinabike.ba
Hum
The station where the track was divided in direction Trebinje and Uskoplje (Dubrovnik and Zelenika). Once upon a time, a very important station is not existent any more, just a ruine of the station building can be seen on this place. Since 1901, Hum has become the largest railway junction on the railway line from Sarajevo to Zelenike and Podgorica in Montenegro. After the abolition of the railway and dismantling the tracks in the summer of 1976, on the track area in front of the railway station a facility was built for production of "heads for thread cutting" by Tool Industry from Trebinje. Today the building is demaged and fall apart.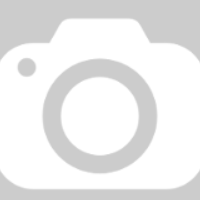 Popovo Polje
Popovo field (Bosnian: Popovo polje, "Priest's Field") is a polje (karstic field) in Bosnia and Herzegovina, located in a southernmost region of the country, near the Adriatic coast. Its size is 5.9 square kilometres (2.3 sq mi). Popovo polje is one of the largest polje (karstic plains) in Bosnia and Herzegovina and the world, famous for its karstic phenomenons and features, and particularly the Trebišnjica river, which flows through the polje as the largest sinking river (also losing stream, or influent stream) in the world, as well as the Vjetrenica cave system, located to the west/south-western parts of the valley. Within Popovo Polje a lot of scenes were shoot for the "Winnetou" movie serial.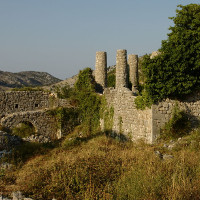 Source: hr.wikipedia.org/wiki/Hutovska_tvr%C4%91ava
Old Hutovo village
Old village Hutovo known as Hadžibeg city, supposed that this fortress is existing since roman time. When you depart from Stolac in direction to Neum, on a narrow road at the foot of the mountain Zaba you will find a stone building of the Old Town in Hutovo.